Not quite two years ago, I wrote the below entry in this very blog:
https://lifemechanical.wordpress.com/2017/10/04/people-kill-people
Having reread it just now, I still feel most of my points in that post are valid. I think it bears some refinement, though. For the sake of posterity, because I sadly just know we'll likely revisit this place again, and again – we've just had two mass shootings in America in the space of twenty four hours.
In El Paso, Texas, a young white man opened fire in a crowded Wal-Mart that was primarily used my Mexican and Mexican-American patrons. This young man had been seemingly emboldened by the hateful rhetoric coming from our highest Office, and decided to do something about the "immigrant problem."
In Dayton, Ohio, another young white man opened fire in a busy nightlife area, killing his sister, among other innocent people. This person seems to have been disturbed, mentally unstable, borderline sociopathic for some time, if the initial reports are at all credible.
And America has responded just about as expected – split right down the middle. Half the people saying "Guns Don't Kill People," and the other half saying, "But People Use Guns to Kill People." Stalemate. Some lawmakers are considering a change of heart, while others are expressing Thoughts and Prayers – which are powerful things, if authentic. Even our Most Esteemed Cheeto In Chief has expressed that "…Our Nation Must Condemn Racism, Bigotry and White Supremacy." Again, a powerful sentiment, if it proves to not simply be lip service…
As I wrote previously, I still hold the opinion that all arguments are equally invalid. The guns are merely a symptom of a broken system.
Some readers might be nodding in agreement, "Yes! The system is broken! Our government…" STOP RIGHT THERE, PLEASE.
I'm not talking about any system that humans might have created. Let's all take a step back – like, a BIG step. Let's travel a million miles out, and view our tiny whirling blue ball as the system: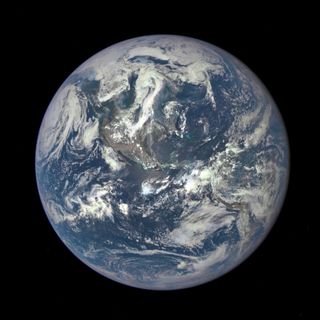 Maybe we should think of it as a cell. If we were to put this cell under an electron microscope, we might see some troubling things – signs of disease, perhaps…
Look closer, you might see the arctic ice caps melting at a rate not before seen in recorded history. You might sample the atmosphere and find CO2 concentration the likely cause of increasing temperature within the biosphere:
If you were a doctor, you might say the cell looks feverish.
The dominant creature of the seas is slowly running out of its natural bountiful prey as the oceans are polluted and emptied and turning acidic from the elevated CO2 levels, because chemistry. As a result, it is venturing closer to shore and beginning to eat members of the dominant land creature as they frolic in the shallow water by the shoreline.
An intelligent creature might look at the balance of life in the biosphere and wonder why the dominant species on the planet seems bent on the outright consumption of its only known habitat. It would be impossible to understand, that this species has over the span of its existence created an abstract concept of wealth that some can collect easily – and the collection of that wealth seems to make it easier to collect more – while most of the rest of the species is left to fend for themselves. The people with the wealth are able to create systems to protect the wealth and prevent it from being shared across the breadth of the species to benefit all. That concept is another abstract called "socialism," apparently, and those holding the wealth view it as categorically bad.
To top it all off, in the purest form of consumerist folly, we've created these amazing tiny computers that simultaneously give us access to all the collective knowledge on the planet, but which remove the need to physically connect with other members of our species. We willfully create distance between us as our very human need for community is slowly forgotten, rendered a mere glint of ancestral memory.
My point being that I believe the system is diseased. Every single organism on this whirling blue ball is part of the system, and as such, we are all connected by the very energy that holds us all together. Trees talk to each other, we are finally "discovering," only perhaps we are remembering – ancient peoples seem to have known this intuitively. Fish and birds move in schools and flocks, their fluid, complex movements as groups incomprehensible to us. Bees collect nectar for honey, but their purely instinctive movements manifest the very existence of fruits.
A man named George Yancey wrote this open letter to God, which I think bears a careful read. He expresses some of the ideas I can't hold in my head all at once.
If we view all things as part of God – if we are All One, and God has gone feverish, then there are bound to be nightmares.
Nightmares always come with a fever.